Hawoly Diop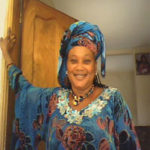 Hawoly Diop, also known as Didi Diop, is originally from Guédé Chantier and in her youth, she studied in the Podor region. In addition to being farmers, her parents are also griots, and Hawoly carries this identity with resolve and pride throughout all aspects of her life.
After studying in St. Louis, Hawoly passed her teacher's exam. After another training in Thiès, she was also successful in the CAP competition and returned to Guédé Chantier with a new mission: to lead the primary school. Hawoly is deeply dedicated to this new job, in which will and commitment are key to success.
In addition to her involvement in school and municipal politics, Hawoly became a member of SCOFI, a departmental committee of women teachers created in 1997. This organization's initial goal, the promotion of girls through access to school has now been reached: it is now being active in the maintenance and monitoring of student's education, from the primary to University levels.
Beyond education, Hawoly is fighting head-on against early marriage and pregnancy, as well as female genital mutilation. In this everyday struggle, Hawoly leads by organizing awareness-raising days in the towns and villages of the department. She is also active with families and parents. Diop is an invaluable actress in terms of education and women's rights throughout the Podor Department!
Ousmane Camara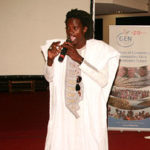 Inspired by artists such as Lucky Dube, Bob Marley and Youssou N'Dour, Ousmane has been a musician since 2009. A 3-year formation at l'Ecole des Beaux Arts in Dakar provided him with the know-how to express his extraordinary talen that got him the second price of the national festival « Fesnak », a renown price from the french association « Francophonie ».
Ousmane sings and plays his guitar in two categories, or styles : reggae and Yalla, the local music. Conscious of the value of his mother tongue, he sings both styles in pulaar. In solo or with a team of musicians and dancers, he also participated in concerts, weddings and festival in 14 regions of the country. He hopes to travel in other African countries in the future to share his culture and to exchange with other artists of the continent.
With the desire to share his musical performances with the desanfranchised, he also plays for free in villages because he is convinced that his music has very important objectives : spread happiness, allow people to forget their problems and share the message that it is necessary to work together for a better development.
His main focus are children that he wishes to motivate to have a healthier and calmer life by waking up their passion for music. To achieve this goal, he is willing to spend more time into musical formation for children.
Currently, Ousmane already recorded two albums, he is also present on Youtube, through songs included not limited to « Ndendendjan » (We are together) and « Madiba » (Revolutionary). At the moment, he is writing a song for REDES, called « Development ».
Magamou Diallo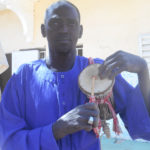 While Magamou discovered the tamtam, a kind of Senegalese drum, through his work as a craftman of traditional instruments, he was taught how to play by the popular local player Amadou Diallo.
Usually, Mamadou is invited to play, alone or with a team of up to 5 players, for events, such as weddings, electoral campaigns, baptisms and cultural manifestations, but sometimes, he teams up with other artists for artistic performances, such as theatre or traditional wrestling during the Ramadan. Through this, he contributes to safeguard et reinvigorate his local customs. Devoted to hi passion for 10 years, Mamadou dreams to be able to live from his activity, which, according to him, helps to 'bring peace'.
The past few years, he had the opportunity to contribute to the activities of REDES through visits abroad, creating a very special experience and typically Senegalese atmosphere.
Saïdou (Hamet) Dia
During his training as an electrician, Saïdou realized that he was a talented drawer. He then decided to start a specialized formation in Dakar that allowed him to learn about caligraphy, serigraphy and other drawing and painting techniques.
And this formation was fruitful! Today, we can see Saïdou's works on placards along the roads, on shops, schools and even mosques. Among other things, he has created a big painting for REDES that we can see at the entrance of the village of Guédé Chantier.
The young artist, who draws as well with pencils as with aquarels and oil paints, collaborates particularly with associations and actors from the civil society since, in the world of trade, « we do not appreciate the real art but we look especially for the best price ».
But Saïdou is also engaged with nature. An old member of the environmental association of the youth of Guédé Chantier « Eco-Sentinelles », he uses his talent, in cooperation with other artists, to sensibilize et motivate the locals to adopt more ecological behaviors through cultural events such as theatre and representative images.
In the future, he wishes to become a 'master painter', recognized in the international sphere. But until then, he delivers a great service to his village !
I recommend to put a picture of Saïdou's painting for REDES and another picture of his work.
Mamadou Oumar Gueye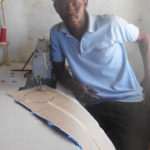 Mamadou Oumar Gueye started to write his first poems when he was only 12 years old.
The young artist, who now earns a living as a stone carver in Guédé, spent 8 years in the school Layabasse in Nouakchott (Mauritania) in order to learn about the Pularr language and the poetry, the language spoken, among others, in the lands surrounding Guédé and 4 other countries of West Africa.
Mamadou writes his texts during the night, when 'calmness is king' and his inspiration comes from daily life, from the politics and the lives of the new generations but also from religious stories, the ones of the marabout and the heroes of the past. His texts express a critical outlook on contemporary issues, others are supposed to encourage the Senegalese people by giving good examples of Africans leaders and models such as Thomas Sankara and Nelson Mandela.
Currently, the work of Mamadou is presented in theatre pieces and on the communal radio chanel, but he dreams to publish a book as soon as he will have the funds. Similarly, he is planning to translate them in several languages which would give a chance to readers of other regions to improve their comprehension and understanding of the context and living conditions in Senegal. Another project aims to contribute to the Afro-american community by introducing them to their ancestors past.
Along his poetic activities, the young artist is engaged in the association « the youth for the development of Diabe Fresbe » (a neighborhood in Guédé) that organizes diverse cultural events (theatre, pirogue races, singing, dancing and traditional clothing).
A young idealist that gives hope!